Hello! My name is Ines and I am happy to introduce myself to you as the Florida Account Manager for Discount School Supply®. I take great pleasure in helping customers with their orders, answering any product-related questions and attending local events and conferences to help market our fabulous products! I find that it's great fun to play with our products, so I can only imagine how much children enjoy them! One of my recent favorites is the Excellerations™ Magnetic Color Sorting Board (CUPCAKE).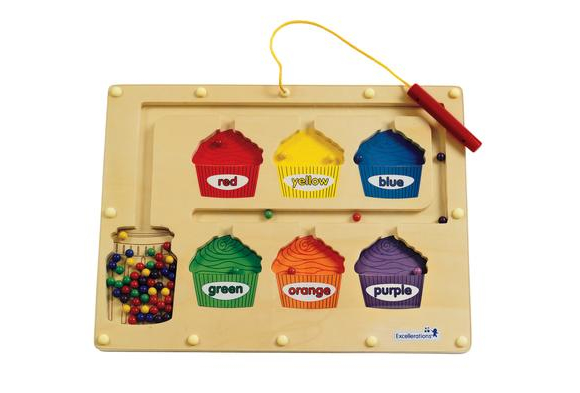 The Excellerations® Magnetic Color Sorting Board (CUPCAKE) is a colorful, durable product exclusive to Discount School Supply®. The large wooden board measures 16" x12" and has a clear acrylic cover. The smooth edges make it easy for small hands to grip, and teachers will love that there are no removable parts!
The board includes six colorful cupcake shapes along with a jar shape full of magnetic pieces in the same colors. The cupcake design helps to make the product attractive and fun, as well as educational! The attached magnetic wand easily glides over the acrylic cover while picking up the colorful magnetic balls. Simply pull the wand off the cover to let the ball drop into its slot. This board is perfect for color-sorting and matching activities, keeping small hands busy and imaginations engaged. The Excellerations® Magnetic Color Sorting Board (CUPCAKE) helps to develop fine motor, color recognition and early math skills. It also helps little ones to develop eye-hand coordination.
Every teacher should take a peek for themselves at this product – and all the others -- at www.DiscountSchoolSupply.com. I hope you'll agree that the possibilities are endless!