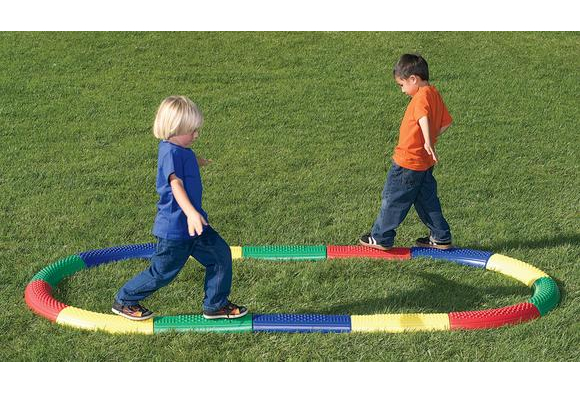 My name is Bill Hillgrove and I am the Pennsylvania Territory Sales Manager for Discount School Supply®. One of my favorite DSS products that has received great feedback from educators all over Pennsylvania is the Sensory Walk (PSENWALK).
The Sensory Walk is available in two sets: a 12-piece set (SENWALK) that retails for $119.99, and a 20-piece set (SENWALK20) that retails for $189.99. These versatile walking "logs" are constructed of hard, durable plastic that can withstand up to 260 pounds. There are straight logs and curved logs in each set that make the layout and design options for the walking paths abundant. Most important, the logs are rounded and have different tactile surfaces which promote balance development and tactile stimulation for the children.
Craig MacKelvey, a physical education teacher and reading specialist in Fairview, South Dakota, is one of our loyal customers who has utilized the Sensory Walk logs in his program. Craig has developed a program that combines routine literacy and reading activities with Active Play or Gross Motor activities. To quote Craig: "When combined with Fine Motor products that involve eye-hand coordination, the SensoryWalk logs are versatile, durable, and serve many functions including Gross Motor, Fine Motor, and Crossing the Midline Brain development in young children. I incorporate the Sensory Walk logs in to my summer program where I instruct K-2 children who have been identified as developmentally delayed readers. These logs promote and improve the balance and Gross Motor functions in young children, along with activities that stimulate the Crossing the Midline functions in the brain."
The Sensory Walk logs are yet another example of a quality product at the lowest price from Discount School Supply®!Be sure to order your Sensory Walk logs for your Active Play, Sensory Play, and Gross Motor development needs.