Regina Eardley, Discount School Supply® Account Manager for Southern Texas, has been working with children and art for more than 16 years.  She conducts workshops demonstrating the critical relevance of art in the classroom. Previously, she owned and operated a KidzArt® franchise serving hundreds of students in the private and public sector.  She is TEA certified in Art K-12, ESL, Generalist 4-8, ELA 8-12, and Journalism 8-12 and taught middle school through the public schools.
~~~~~
There is something magical about a light table (LIGHTBOX) in a classroom, especially when it is coupled with transparent objects. It offers children an opportunity to explore shapes and shadows. Recently, I was introduced to Prism Bricks® (PPRISM). These chunky building bricks are transparent and come in several colors. When the light passes through them they radiate the colors and create a whole new level of discovery for students.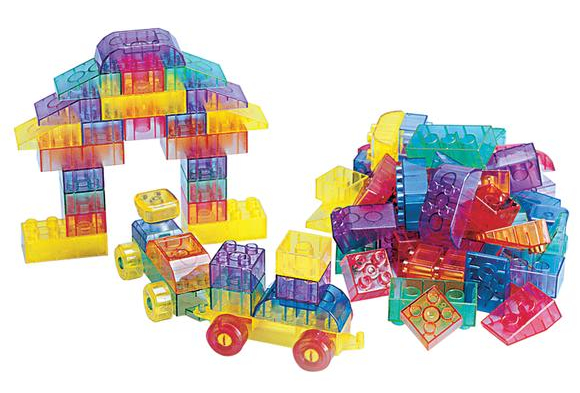 This is a perfect resource to reinforce STEM (Science, Technology, Engineering and Math) learning concepts.  In addition, the bricks are great for creating and building models with sensory stimulation, hand-eye coordination, and fine motor development.  Manipulating the bricks, pressing them together and taking them apart are all vital for the hand muscle development that supports pre-writing skills. Choosing colored pieces to go together exercises decision-making skills, and then seeing the wonderful translucent colors made more vibrant over the light table ignites wonder and exploration.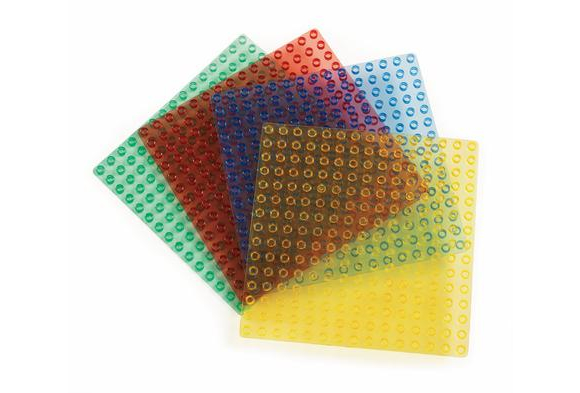 The 84-piece set comes with two figures, two chassis and a building base (PPRISM) and there is an additional four-piece Prism Bricks® Base set (PRISMBSE) that allows for construction of an entire world from the child's imagination. One of the greatest benefits of learning through play is allowing the child to explore and expand his mind. And these wonderful bricks can be used in independent play, as well as in a cooperative learning scenario. They are a great resource to add to any classroom.