My name is Dave Mebs and I am the NJ Account Manager for Discount School Supply®.  One of my favorite products is our set of 11 BioColor® paints (BIO16), which are exclusive to Discount School Supply® . At conferences, attendees are amazed at the different projects I show using the BioColor® paints. Using the BioColor® paints from Discount School Supply® is very simple and clean-up is easy. What makes BioColor® paints unique from other paints is that the colors do not mix or blend together.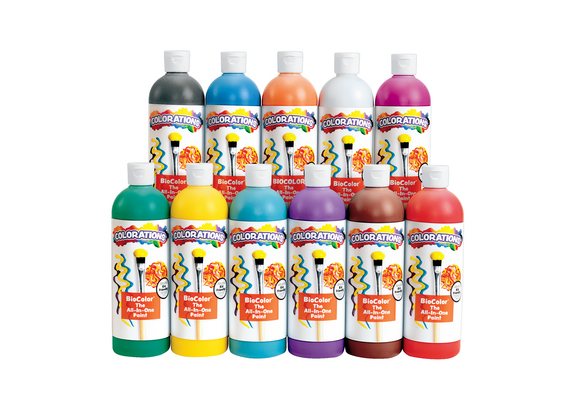 One of my favorite projects to do with BioColor® paint from Discount School Supply® is the Hand X-Ray project. The Hand X-Ray can be used as a science project or a very easy and low-cost Mother's or Father's Day gift. Children love doing the project and are amazed as their handprints bleed through the covering color.
Materials needed: white paper (9SU); black BioColor® (BIOBK); white BioColor® (BIOWH) and a BioColor® Paint Scraper (SCRPR). The black and white BioColor® can be substituted with any colors if you'd like a more colorful "x-ray".
Step 1:  Paint the child's hand or hands with white BioColor®.
Step 2:  Place the hands onto the white paper, pushing down hard to make handprints.
Step 3:  Apply a thin line of black BioColor® on either edge of the paper.
Step 4:  Using scraper, pull the black BioColor® over handprints and WATCH WHAT HAPPENS!
For a Mother's Day gift, a teacher can write the child's name and year with a brush or Nancy™ bottle (NANCLS)  under or above the handprint before pulling the top color across the handprint.  Yellow and red BioColor® are the perfect substitute for the black and white when making a Mother's or Father's Day gift.
Recommended Products from Discount School Supply®: 9x12" White Sulphite Paper, 500 sheets (P9SU) BioColor® Paints, set of 11 colors (BIO16) BioColor® White Paint (BIOWH) BioColor® Black Paint (BIOBK) BioColor® Red Paint (BIORE) BioColor® Yellow Paint (BIOYE) BioColor® Paint Scraper (SCRPR) Nancy™ Classic Paint Bottles, set of 12 (NANCLS)