Hello, my name is Calista and I am the Administrative Coordinator here at Discount School Supply®. I remember when I was newly hired and I had the opportunity to experience painting with BioColor® paint for the first time. Because BioColor® is so versatile and fun, it quickly became one of my favorite paints. That's why I am so excited to announce that today we will begin celebrating BioColor's 21st Birthday! What's BioColor®, you say? Well, let me tell you a little bit about this all-in-one paint!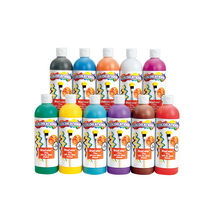 BioColor® was first found on display at the 1992 Nuremberg Toy Show in Germany by attendees from Discount School Supply®. Our attendees were drawn to BioColor® because of all the amazing things it can do, in addition to its bright colors, creamy consistency, smooth texture and versatility. This paint can be frozen to make icicle painters, turned into putty, painted onto tinfoil, blotted with balloons, and dried to make window stickers. It was like nothing we had ever seen before!
So, Discount School Supply® gained exclusive rights to create and distribute BioColor® in the U.S. and here we are, 21 years later, with an incredible paint that lets adults and children alike discover dozens of new ways to create and play!
BioColor® is so versatile that it can be used for easel painting, resist art, sticker art, marbling projects, fabric painting or putty projects. It adheres to almost any surface and has a creamy consistency that doesn't crack or fade and is shiny when dry. It's non-toxic and cleans up easily.
And one of the most exciting features of BioColor® is that it doesn't blend together with other BioColor® paint. If you take red BioColor® and green BioColor® and mix them together, the colors marble; they don't make brown!  That's one of the reasons the colors stay so bright and don't get "muddy" during painting, marbling, and print-making activities. You have to see it to believe it! Check out this video of one of my favorite activities, Blotter Art, where you can see it in action:
http://www.youtube.com/watch?v=dqh6U6QC35s
To wish BioColor® a happy birthday, we are having a little celebration and you can participate! Do you have a favorite BioColor® activity you use in your classroom or with kids at home? We'd love to have you submit it!
Here are the contest details:
Submit your original BioColor® activity by clicking here.
The best activity wins $2100* in products! Five runners-up will win $210 in products! Plus, your activity could be in our next BioColor® video!
Isn't that a great way to celebrate BioColor's 21st birthday? You have until Friday, May 31st to submit your amazing BioColor® activity!
*See official rules for details