Hi, my name is Adriane, and I am the NY Account Manager for Discount School Supply®. For the past five years, I have worked collaboratively with directors and teachers throughout the state of New York introducing new products and ideas that they can use in their classrooms. One of our new products that I really like is the Peekaboo Lockboxes (AP5058J).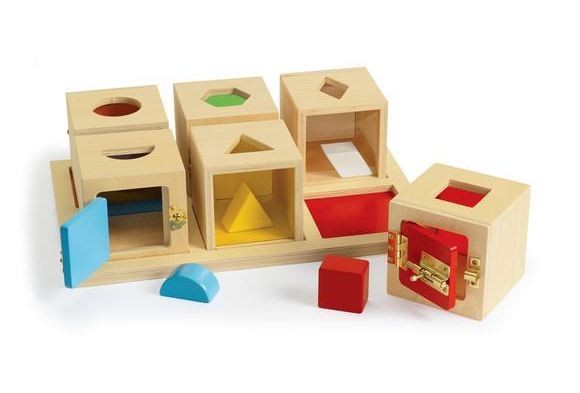 The Peekaboo Lockboxes are a high quality wooden manipulative educational product. It is appropriate for children aged two and up and will withstand a lot of wear and tear without showing it. This product consists of six boxes, each with a brightly colored transparent acrylic window and wooden door with a unique lock. On the top of each box is a cut-out shape---such as a circle, triangle or diamond, and inside the box is the matching wooden shape. All the boxes are color-coordinated. For example, the blue half-circle wooden shape is in a box with a blue door and a blue acrylic window. Also, all the boxes fit in a color-matching nesting storage tray.
I think this is a great product because the children will have fun playing with it, but they will also learn many useful skills while engaged in their activity. For example, one game they can play is to sort the wooden shapes by color and the cut-out shape. All of the wooden shapes can be removed from the boxes, and then the child has to figure out which cut-out shape will accommodate the actual wooden shape. This activity will teach them about shape recognition and color. Furthermore, the children can work on their fine-motor skills by learning to open each unique lock on each door and by putting the wooden shapes inside the right boxes by matching the colors to the door and window. Once they are finished playing with this product, the children can place the boxes in the convenient nesting storage tray, and the boxes are ready to be put away for the next play time.
I think your students will love playing with the Discount School Supply® Peekaboo Lockboxes. The Peekaboo Lock Boxes are the ideal tool for learning about colors and shapes and for developing fine-motor skills.