Hi, my name is Nancy Maycroft and I live in Cary, IL. I am the Illinois Account Manager for Discount School Supply®. Discount School Supply® just came out with a brand of classroom products called Excellerations™! The name Excellerations™ came from the desire to inspire children to excel and from the need to provide teachers with quality, durable products with innovation creative and educational content. Excellerations™ products are affordable and carry age-appropriate labels for convenience. These new Excellerations™ products are a terrific value for any classroom!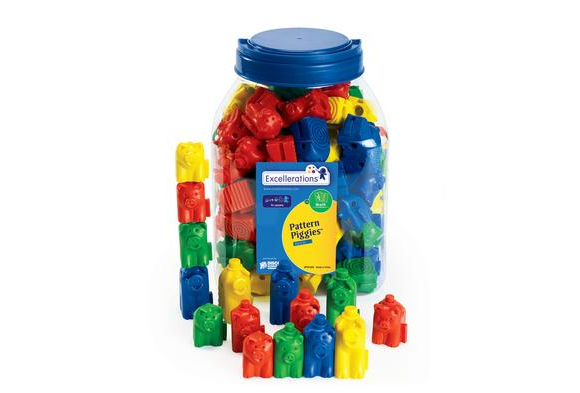 The new Excellerations™ Pattern Piggies™ (PPIGGIES) are unique and very versatile. They are a great asset for meeting Common Core math standards for Preschool and Kindergarten students. Pattern Piggies™ are sturdy and lots of fun. The clear plastic container is filled with 96 piggies in four different sizes and colors. Piggies can stack vertically or link side-by-side and can even be used with lacing strings. Children can even use the piggies to stamp tactile textures into clay. These manipulatives are a great resource for any math curriculum to encourage counting, patterning and sorting!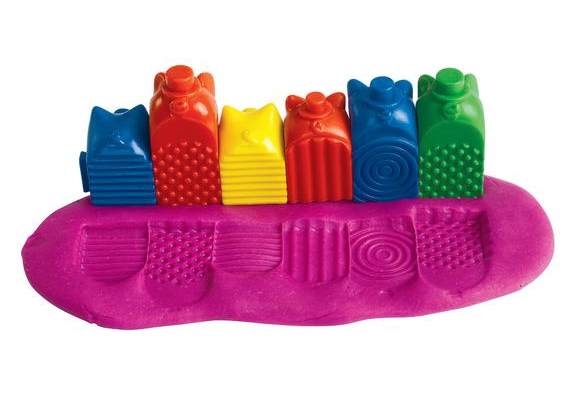 There are also other items available to complement the Excellerations™ Pattern Piggies™.  Excellerations™ Pattern Cards (PIGPAT) will help children learn to recognize a variety of patterns. Children can stack the piggies vertically and horizontally on the cards, which increase in difficulty with partial and complete patterns. Excellerations™ Pig Pen Nesting Bowls (PIGPENS) come in a set of four colorful plastic nesting pig pens. Each pig pen has a corresponding color and pattern to go along with Pattern Piggies™. These can be used for fine motor activities, clay pressing and crayon rubbings. Excellerations™ Leveled Pattern Laces (PATLACES) are colorful, easy-to-thread 26" laces with extra-long plastic ends. The laces come in six partial and complete patterns, eight solid color and two blank laces for sorting and lacing activities. Any of these additional products are perfect to include with your Math Center.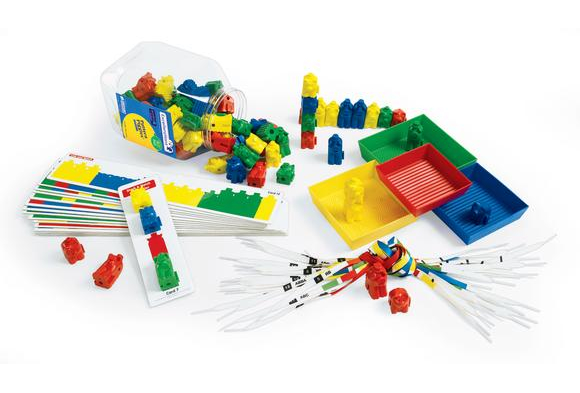 Pattern Piggies™ can also be used with Colorations® Stamper Perfect Washable Stamp Pads (STAMPADS) and can be included in patterning activities with Arts & Crafts materials. Piggies can also be used to tell the story of the Three Little Pigs. Pattern Piggies™ can be used for color theme or animal theme days as well. This product inspires the imagination of both teachers and children! They are a great asset to the Math Center, as well as the Language Center.
Excellerations™ Pattern Piggies™ can be used in virtually every aspect of learning. Your Math Centers will come alive when you use Excellerations™ Pattern Piggies™ and the Language Center ideas are endless! The price is unbelievable for such a super value in a product. It even includes a Teacher's Guide full of ideas to use when you run out of your own.  Have fun - the possibilities are endless!